Camp Amenities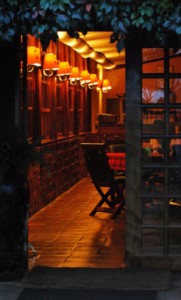 The camp offers a large dinning area for meals as well as socializing in the evenings. Electricity, which is powered by a generator, runs every morning from 5:30-7:30 AM and every evening from 6:30-10:30 PM. Hot water is generated from boilers which are lit twice a day for morning and evening showers. Towels and bedding are provided in all three accommodations.
A verandah with a fire pit faces the breathtaking view of the Maasai Mara providing a calm place to spend an evening around the fire. And finally, after a hard day of working there is always the option of visiting the massage tent to relax the mind and muscles!
Enjoy wonderful meals prepared fresh daily, with a mix of Kenyan specialties and many traditional favorites you'll recognize from home. Vegetarian options are available.
---